Go Swim Team MatchPoint NYC!
Congratulations to our MatchPoint NYC  Swim Team for taking 2nd place in the Diplomat Holiday Classic  Swim Meet this past weekend!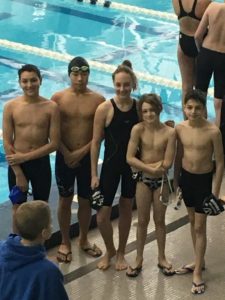 They also won 8th place in the large team category.
Winners in detail:
Nick Radkov – after all 9 events he made the highest scores in the age 11-12 Boys category his medals include:-1 place,
5 first places, two -second places and two 4th places.
John DiMaggio- 1-place, second, third, forth, two 6 places and one 7 place.
Maria Burtseva- 1 place, forth and seven place.
Edward Baranov- forth and fifth places.
Ethan Law- sixth and eighth places.
Yousef Hafez -sixth place, and Konstantin Lomeyko (ninth place).
Keep up the great work! MatchPoint NYC is very proud of your accomplishments!
On December 20th 3-5 pm we will have a Kids Free Day! Come in and try any kids activity during that time for free and FIND YOUR GAME! Fill out a  
form
to let us know what activity you are interested in.