2nd Annual MatchPoint NYC Tennis Quickstart Tournament
On December 12th  and 19th MatchPoint NYC hosted the 2nd annual QuickStart tournament. Boys and Girls competed on separate days.  NY Tennis Magazine attended the boys tournament and wrote an article about the events of that day.
The tournament broke the kids up into  Advanced and Beginner divisions, with round-robin play to determine who would reach the semifinals and finals. After excellent tennis filled the round-robin stage, the semifinals were set for both the Advanced and Beginner divisions.
In the Beginner division, Joseph Belenky beat Alex Koval 11-7 in one semifinal, while Ivan Televnyy outlasted Chris Dubovici 14-12. Belenky carried his momentum into the finals as he defeated Televnyy 8-6 to win the tournament.
"It was really fun," said Belenky. "I was so excited to win."
Charlotte Kogan won the Advanced and Olivia Kogan won beginner divisions in the girls tournament.
"It's nice to see how different it is from practice when we play matches," said MatchPoint's Assistant Director of QuickStart Danny Ostrometsky. "The match play is important because you can see how they deal with the nerves. I think the results were somewhat expected for some of them and overall it was really good quality of play."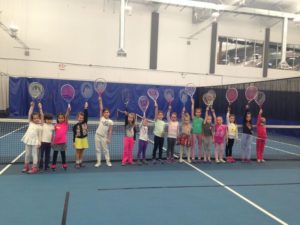 Our QuickStart tournaments show the parents what the kids have learned and that's encouraging for a child. It's one thing to achieve something, but we love to see that they are just excited to play.
If you are interested in Tennis Lessons, our Session 2 starts on January 25th, visit us at MatchPoint NYC for the latest QuickStart schedule.
If you are in town sign up for camp Dec 28-Dec 31st and FIND YOUR GAME!