WHY SHOULD MY CHILD BE A SWIMMER?
Swimming is an outstanding activity for people of all ages, it promotes fitness and teaches a child to strive for physical achievement. Many super-stars in other sports started out as swimmers and gained strength and coordination that helped them to excel. Participants may be 1 or 101 years old.
Swimming is an exciting individual and team sport, it offers technical and specialized activity involving extensive skill development. It is also a healthy "lifetime" activity. Swimming is relatively injury free in comparison to other youth sports. It teaches the life lessons of sport and sportsmanship which include learning to deal with winning and losing, as well as working with officials, teammates and coaches.
If you are looking for self-improvement and like to set goals, need to improve your child's self-esteem and mental attitude then this sport is for you! Let's not forget that it can prevent drowning.
DID YOU KNOW?
Drowning is a leading killer of American children? More than 30% of kids are at risk for obesity-related illnesses. Swimming is the answer!
MatchPoint NYC's swim program benefits include: • Total Body Workout • Self-Confidence • Self-Esteem building • Healthy Habits • Team Work • Sportsmanship• Discipline • Stamina Building• Technique Perfection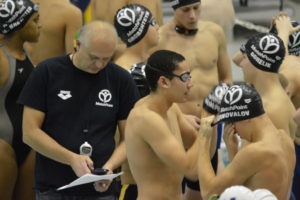 Konstantin Petrov, MatchPoint NYC's Aquatics Director is an Olympics Bronze Medalist as well as European Championships Gold medalist.
Along with his team of highly skilled swim coaches are committed to offering an exceptional experience for student swimmers in our Junior Olympic size pool.
Konstantin competed in the Masters World Championships in Kazan, Russia this past summer.
He posted the following results in the 50-54 age category: 50 Butterfly- 28, 41 /7 place.  50 Freestyle-27,47 / 15 place,  50 Breaststroke- 34, 39- 12 place
For more information on swimming go to USA Swimming.org
To sign up for MatchPoint NYC's swim programs please visit  our website.
We hope you sign up and FIND YOUR GAME!