Our December 4th Sumo Tournament was a success!
On December 4th, MatchPoint NYC held our 1st Annual Sumo Tournament. 22 Kids ages 5-12 participated in the 2 hour event held in our Multi Sport room. Sumo is a Japanese form of heavyweight wrestling, in which a wrestler wins by  forcing his opponent outside a marked circle or by making him touch the ground with any part of his body except the soles of his feet. The parents were all really engaged in the event. Thank you everyone for coming and we hope to see you at our Sambo and Dzudo tournaments that are coming up in 2016.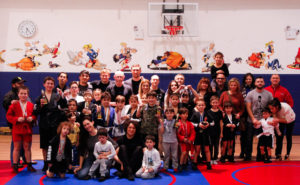 THE RESULTS BY WEIGHT CATEGORY
20 kg. (44 lb)
Gelfand Aaron 6 years
Melkumov Elvin 6 years
Hiefitz Samuel 5 years
25 kg. (55 lb)
Belyakov Mihail 5 years
Goland Nikita 7 years
Shteinberg Ari 5 years
30 kg. (66 lb)
Gorodetsky Artur 9 years
Ossipov Alexandr 9 years
Saliev Elijah 7 years
35 kg. (77 lb)
Lempert Alex 10 years
Tulenov Milan 7 years
40 kg. (88.5 lb)
Gelfand Samuel 9 years
Ashurov Leo 7 years
Ionin Daniel 8 years
Over 40 kg. (88.5 lb)
Shteinberg Mattew  12 years
2. Zinkovetskiy Allan 12 year
3. Move Michael 10 years
For more information and photos of the event go to 1st Annual Sumo event page. If your child is enrolled in any of our MatchPoint NYC programs we will discount your new annual (gold or silver) gym membership by 25% , ask our Membership advisor for details. Stop by and FIND YOUR GAME!